Polson Pirates take down Browning Indians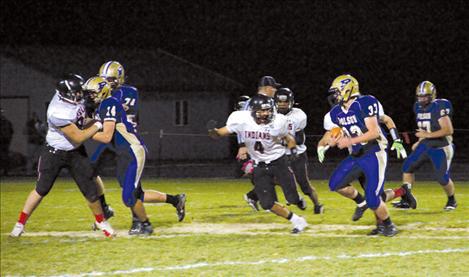 POLSON — The Polson Pirates capped off their undefeated season with a 49-0 shutout victory against the visiting Browning Indians.
The Pirates will enter the playoffs with home field advantage and a well-deserved rest during a first-round playoff bye week.
"Next up is a playoff game on Saturday, Nov. 3, in Polson," coach Scott Wilson said in an email.
The Pirates will play the winner of the Oct. 27 Laurel versus Havre game.
Offensively, Polson earned 263 yards on the ground on a total of 39 carries — an average of nearly seven yards per carry — and six touchdowns.
Fullbacks Colton Lenz and Josiah Edington combined for 121 yards and two touchdowns, while running back Austin Ashby racked up 46 yards and a touchdown.
Defensively, the Pirates held the Indians to only 106 total yards of offense while allowing no scores. Defensive tackle Riley Sampson had seven tackles, one sack and a fumble recovery.