Clean-up makes happy neighbors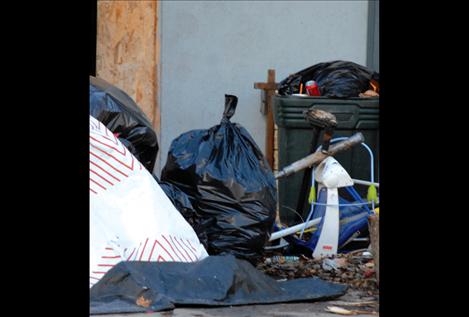 POLSON — With Christmas coming soon, community members are putting up lights and decorations and thinking about shopping.
Even though holiday cheer is making people smile more, Polson Police Chief Wade Nash has had several complaints about parked vehicles full of garbage or garbage piled in front of residences.
The dumps in Lake County are free, Nash said, so folks can get rid of trash for no cost. Stockpiling trash is unsightly and may bother the neighbors. It's also a health hazard. Animals dig in the garbage, mice enjoy the banquet, and the refuse blows around the area creating more mess in neighborhoods.
According to the citizens guide to the municipal code of Polson available on the city website at www.cityofpolson.com/citizens_guide: "It shall be the duty of the owner, agent, occupant or lessee of property to keep the premises free of litter, rubbish, garbage and unkempt foliage, including but not limited to weeds and uncut grass. (PMC 7.04.060)" Garbage is supposed to be disposed of within 72 hours, if it's visible to the public.
Also, signs advertising garage sales or items for sale have been tacked or stapled onto City of Polson poles, telephone poles and Mission Valley Power poles.
The city has ordinances against signs, adopted in 1986, being posted on all city property, such as stop signs or traffic signs. The ordinance has never been enforced, Nash said.
Nash would like to educate the community about the ordinances so the Polson Police Department won't have to resort to fining people.