Bazaar benefits 'Spirit of the Bison' powwow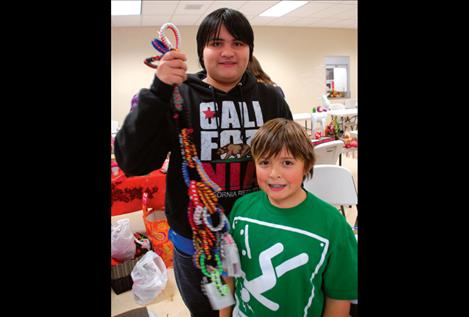 PABLO — The "Knotty Boys," Joey Kipp and Jace Matt, tied yards of parachute cord into 50 bracelets and countless keychains for the Spirit of the Bison bazaar on Dec. 9. Beadwork, birdhouses, Christmas cupcakes, braids of sweetgrass and bundles of white sage and jars of brightly colored candies were some of the other items at the bazaar held at the Joe McDonald Health and Fitness Center on the Salish Kootenai College campus.
Packed with shoppers, the bazaar was a fundraiser for Spirit of the Bison. The club plans a powwow in the spring, according to Allen Addison, faculty advisor and founder of the culture club.
Student Shinaasha Pete, president of Spirit of the Bison, is trying to make the club multicultural, knitting it back together to involve all students who attend SKC, not just Native Americans. Another goal is to educate area communities about other tribes.
Pete said the contest powwow is scheduled for Memorial Day, with the goal of having a more traditional powwow for graduates and their families.
Pete said the group also plans a farmers market in the spring and summer.