Hospitals host emergency training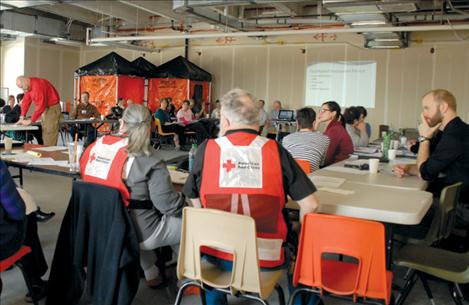 RONAN — The scenario: the Mission Valley is flooding, and some residents have been evacuated to shelters at Salish Kootenai College. A young man complaining of a headache and feeling ill was dosed with aspirin and rested in the shelter. The next day, the young man has a high fever, still has the headache and is transported to St. Luke Community Hospital, where his symptoms suggest he has bacterial meningitis.
People who were exposed to the young man in the shelter need medicine. An agitated man appeared at the shelter and wanted preventative medicine also, even though he was not at the shelter. When he was refused, the man returned to his pickup, got his gun and began shooting people.
While it's a make-believe scenario, it allows the area's first responders, hospitals and firefighters to "practice" before a real emergency occurs.
A "table-top exercise" was hosted by Providence St. Joseph Medical Center and St. Luke Community Healthcare and presented by Spartan Consulting on March 29.
In the table-top simulation, groups discussed coordination, communications, staffing, logistics and community needs.
Approximately 44 folks from St. Lukes, Providence St. Joseph, Confederated Salish and Kootenai Tribal Health, Lake County Public Health, law enforcement, Lake County Emergency Operations Centers, the Red Cross, emergency medical technicians and other emergency personnel attended.
Linda Cox, of St. Luke's, and Camilla Yamada, manager of plant operations at Providence St. Joseph's, planned the training. The two met at a Tribal Emergency Response Committee/Local Emergency Planning Committee meeting and decided to combine forces instead of holding two separate trainings.
Both hospitals put politics aside for the good of the community, and administrators and staff attended the two-day meeting, underscoring the importance of emergency planning.
While this is a make-believe scenario, it will be played out in real time in July as if the incident really happened to test emergency procedures.
"It's going to be the real deal," Cox said, complete with ambulances transporting "victims."
Cox and Yamada added that they need community members and families to act as "victims."
Funds from the state Department of Public Health and Human Services helped facilitate the training.
Emergency responders want the community to know they are training for emergencies.
Community members can help by being prepared for flooding, snow, power outages, etc., and know about neighborhood limitations, such as someone who might be on oxygen, folks with limited mobility or no transportation, and families with infants and small children who might need help if case of emergency.