Firefighters save Polson home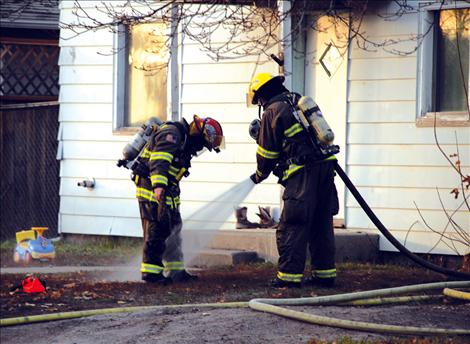 POLSON — A Polson student home sick with the flu Nov. 11 was awakened by smoke and Dale, the family's brindle pit bull, in his home at 206 8th Ave. W.
The fire did an estimated $10,000 to $12,000 worth of damage to the building and its contents. Dispatch called the Polson Fire Department at about 3:45 p.m. reporting smoke coming from the house, said Fire Chief John Fairchild. In all, 22 firefighters showed up to suppress the blaze. Although they had to break out a window to ventilate the area, he said the firefighters did minimal damage.
Fairchild said the cause is still under investigation, but an electrical fire has been ruled out.
"The only thing we couldn't rule out was a cigarette or spontaneous combustion," Fairchild said.
"Yes, (the family) lost some clothes and there was some smoke damage," Fairchild said, but no one was hurt.
Dale ran from the home but came back while firefighters were still rolling up their hoses.
As a precaution against fires, Fairchild reminded folks to keep clothes spotted with oil or gasoline in a steel can, launder them as soon as possible and air or line dry.
Also he advised vacuuming out wall heaters and baseboard heaters, making sure there is at least 18 inches — even more is better — between the heating unit and furniture or other items.