Trumpeter Swan shooters sentenced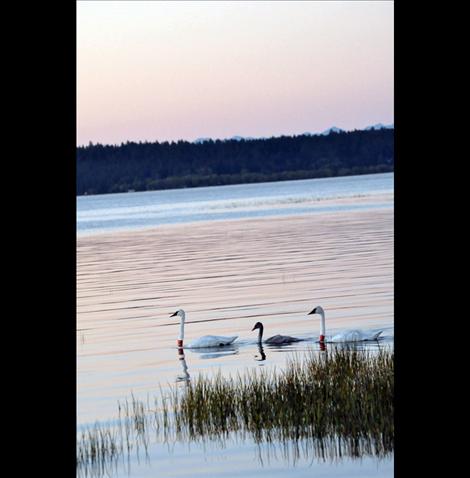 News from the Confederated Salish and Kooteani Tribes
PABLO — Last week careful collaboration between Tribal Conservation Officer and Investigator Mike McElderry and Montana Fish Wildlife and Parks Warden Ron Howell resulted in citations of two Polson residents in the incident of the Trumpeter Swan shooting with a high power rifle.
The two men, Leroy Charles and Timothy Brantner, were cited into Tribal Court on charges related to the incident. Charles was cited with three counts: negligent discharging of a firearm, taking a species closed to hunting, and hunting by a non-tribal member outside of season and bag limits.
Charles admitted to all of the charges. He was fined $500 for each count plus an additional $1,500 fine was imposed for restitution for the Trumpeter Swan. Additionally, Chief Judge Tanner suspended his bird hunting, fishing and recreational privileges on tribal lands on for five years. Finally, Judge Tanner gave Charles 60 days to arrange to meet with either the Salish Pend d' Oreille Culture Committee or the Kootenai Culture Committee to receive instruction.
Brantner did not appear in tribal Court and was given a default judgment. Brantner was cited for recreating on tribal land without a valid permit. He was also cited for negligent discharge of a firearm. He was fined $100 on the first charge, and $500 on the second charge. In addition, Brantner's privileges to bird hunt, fish and recreate on tribal lands were suspended for one year.
"Judge Tanner afforded Mr. Charles an opportunity to explain himself and he had no explanation for his behavior," said tribal attorney Larry Ginnings, who served as prosecutor for the case. "Judge Tanner, on behalf of the Confederated Salish and Kootenai Tribes, imposed the maximum penalty under the law because this was such a senseless act."
Tribal officials want to thank the public for reporting information that led to the successful prosecution of this incident. Ginnings said the conduct also endangered the public.
"These two men shot numerous rounds in a campground from a high power rifle, shooting across the Lower Flathead River," Ginnings said.
Tribal officials and Montana FWP Warden Ron Howell want to thank the public for utilizing the Tip-Mont hotline in reporting information that led to the successful prosecution of this case. To report violations or if you have any questions, please call one of the following: 1-800-TIP-MONT or (406) 675-4700.