Clairmont leads Pirates at Archie Roe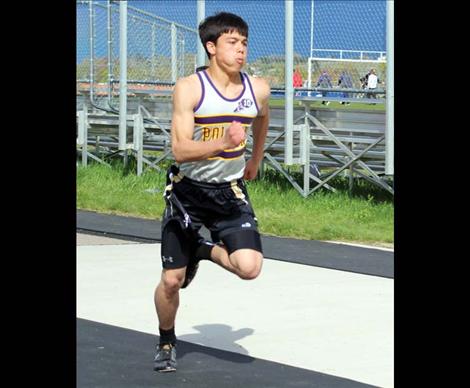 KALISPELL – Though the Pirates placed sixth as a team out of 14 with a score of 32.25, Jacob Clairmont placed second in three events at the Archie Roe Invitational held in Kalispell on Saturday. In the 110 meter hurdles, Clairmont finished with a second place time of 15:86 and also stole silver in the 300 meter hurdles clocking in at 41.24. Clairmont also landed a 20-4.25 long jump, which put him in second for that event as well. Pirate Tel Motichka finished in second place in the 800 meter with a time of 2:01.49.
The Lady Pirates suffered a bit of a struggle with only Claudia Hewston and Tiara Duford finding top-three placements in their events. Hewston found third in the 800 meter with a time of 2:24 and Duford placed third in the 400 meter with a time of 1:02.69. The Lady Pirates relay team also boarded with a fourth place finish in the 400 meter relay. The Lady Pirates finished 11th out of 14 as a team with a score of 10.
Polson will host the ABC Invitational May 17.
Results
Boys
Team scores – Kalispell Flathead 122.75, Kalispell Glacier 108, Missoula Hellgate 70, Whitefish 69, Bigfork 35.25, Polson 32.25, Columbia Falls 23, Thompson Falls 17, Frenchtown 14, Plains 12, Browning 10, Fort Benton 6.25, Eureka 5.5, Cut Bank 2.
Girls
Team scores – Kalispell Glacier 98, Kalispell Flathead 91, Whitefish 79, Plains 59, Missoula Hellgate 51, Columbia Falls 49, Thompson Falls 26, Bigfork 26, Eureka 23, Polson 10, Frenchtown 4, Fort Benton 2, Cut Bank 1.