Ronan street dance future hinges on behavior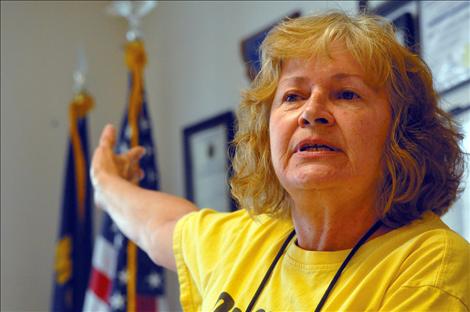 RONAN – The traditionally family-friendly Pioneer Days street dance in Ronan might become an event for people age 21 or older only, if this year's enhanced security measures don't cut down on problem behaviors.
"We'll try it one more year as a family thing and if things go like they did last year, we'll go to age 21 (and older)," City Councilmember Robert McCrea said.
Last year's dance was rife with fights, prohibited glass containers and lax security, Ronan Officer Pat Noble said. Pheasant Lounge owner Lori Parr is one of the sponsors of the event, and said this year's dance will have more stringent rules to prevent problems. Attendees will be met with barriers and large banners spelling out exactly which items and behaviors are off limits, Parr told city councilmembers when the event's open container permit was approved July 7.
Among prohibited items are outside alcohol, glass containers, big handbags and backpacks.
"You have to have an ID to get served," Parr said. "There will be no coolers, no backpacks, no big purses, no big coats, and if you have them, you will be searched."
The enhanced measures are meant to cut down on issues with underage drinking.
"It is supposedly a family thing and I remember years when they would come – families with their kids and lawn chairs would sit," Parr said. "But last year I think I confiscated five backpacks off of 12- and 13-year-olds with cases of beers and bottles … I wanted to go to 21 and older, but (other bar owners said) let's try it one more year."
City Councilmember Ellen Kaphammer said she understands why some people want to keep the dance open to underage children.
"I feel like it is tradition," Kaphammer said. "It's part of Pioneer Days and I think people look forward to it."
Noble and Mayor Kim Aipperspach said that if the enhanced security measures work future dances should not be an issue.