Baby on Board: Newborn arrives on transit bus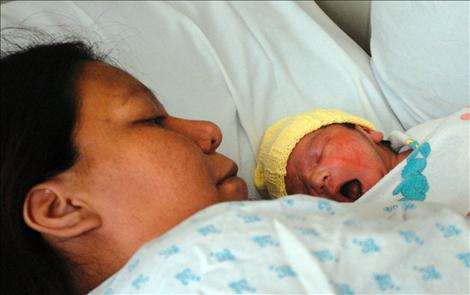 ELMO — It wasn't just the usual bus ride into town for Sharon Lee Buckskin last week. Nine months pregnant, she got on the DHRD Transit bus in Elmo on July 15 to go to Polson for some appointments, and when she got off the bus she had her newborn baby with her.
Sharon's baby, due July 22, arrived a little early. Sharon said she had four contractions on the way to the transit stop but thought she'd have time to make it to Polson.
Elmo resident Dana Tenas Hewankorn had just stepped out of her Elmo home when the frantic bus driver told her a lady's water had broken and the lady was giving birth on the bus.
"It's a good thing I was late for work," Hewankorn said.
Hewankorn saw Sharon was indeed having a baby, so she called the Elmo Tribal Health Clinic across the street. Elmo resident Gigi Caye joined Hewankorn on the bus. The ladies reassured Sharon, who had partially delivered her baby, that help was on the way.
Luckily, Dr. LeeAnna Muzquiz was at the Clinic when the call came in. When Dr. Muzquiz arrived she noted the baby was breech, and said they had to maneuver Sharon around so she was lying down and could push.
Mathias Lee Buckskin was delivered on the bus. An ambulance arrived about 9:30 a.m. to transport mom and the newborn to Providence St. Joseph's Medical Center in Polson.
Mom and baby were doing well as they waited to see Dr. Kelly Bagnell.
"He's very alert," Sharon said, stroking Mathias' cheek.
Mathias is Sharon's fourth child. His siblings are Savannah Sunshine, Lyddll Light Owl and Lee Spottedeagle.
The early arrival presented a bit of a problem for Sharon.
"I'm a single mom, and I really wasn't prepared for him," she said.
Sharon said she could use diapers and wipes, a stroller, formula, a crib, a bassinette or a swing or Walmart gift cards so she can purchase baby items.