Articles with the Tag: Blackfeet Reservation
St. Ignatius photographer exhibits art at Missoula Art Museum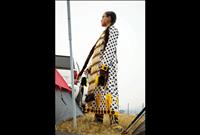 News from the Missoula Art Museum MISSOULA — This is the premier exhibition of Stephen Hunt's photographs, "Kitawaahsinnoon, The Land that Feeds Us," Aug. 9-Dec. 8, at the Lynda M. Frost Contemporary American Indian Art Gallery. Hunt studied photography with David J. Spear at Sal...
Local gallery hosts online art auction to benefit reservation communities
POLSON – Art lovers recently had an opportunity to help others with the purchase of works from some very notable Montana artists. The Takes Horse Gallery, a Polson gallery owned by Karee Takes Horse, launched a week-long online art auction in hopes of raising funds to assist Native American co...