Articles with the Tag: St
St. Ignatius Seniors for Aug. 1, 2018
ST. IGNATIUS — " The best way to predict your future is to create it." — Abraham Lincoln Our foot and nail clinic will be on Tuesday, Aug. 21, from 10 a.m.-noon. Please call the center at 406-745-4462to make your appointment. Meals can be delivered to qualified seniors and...
Program needs help to support women, children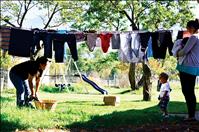 ST. IGNATIUS – Billie Lowther was at a horrible place in her life earlier this year — and she was pregnant with her second child. "I was so scared," she said. "I didn't know what to do. I felt trapped." She ended up finding help at The Nest. She is the first re...