Man who led police on 105 mph chase given 'last chance'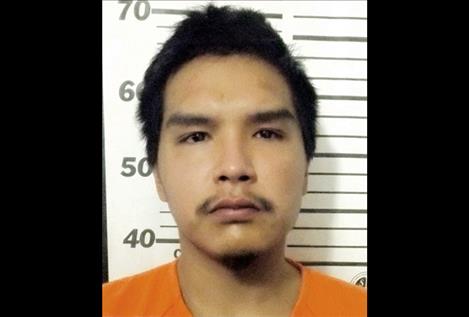 POLSON — A 23-year-old Ronan man might have been given a last chance to straighten up or face the consequences.
On Feb. 27, Kenneth Lozeau Jr. had a previous sentence for criminal possession of dangerous drugs revoked, and he was given a three-year sentence in the Department of Corrections with a recommendation that he be enrolled in the Treasure State Correctional Facility (boot camp).
Judge Kim Christopher encouraged Lozeau to take advantage of boot camp, which she said would be difficult. She also warned him that if he should fail, his life would be handed to the state on a "silver platter" and he could be sentenced to up to 100 years in prison.
Lozeau, of Ronan, attempted to commit suicide by jumping in front of cars while intoxicated and fought law enforcement officers on June 9, 2014, according to a court document. When he was booked into the tribal jail, officers found one Hydrocodone pill in his pocket.
Lozeau received an 18-month deferred sentence for that offense.
According to probation officer Devon McCrea's report, Lozeau only attended one chemical dependency counseling session and was later found to be intoxicated in August 2016.
On Dec. 14, 2016 in Polson, Lozeau eluded police and traveled at a speed of 105 mph during the chase and eventually crashed a vehicle into a fence in the 34000 block of Round Butte Road in Ronan. Two passengers were in the vehicle at the time.
According to McCrea, the two passengers pleaded with Lozeau, who was intoxicated, to stop the vehicle. McCrea said that Lozeau also admitted to being under the influence of methamphetamine at the time.
On Feb. 27, County Attorney Steve Eschenbacher agreed to defer prosecution of the newer charges for five years on the condition that Lozeau completes "boot camp" or whatever treatment deemed necessary by the Department of Corrections for the 2014 conviction.
Lozeau had been charged with two counts of criminal endangerment and misdemeanor eluding a police officer. Each criminal endangerment charge carries a maximum sentence of 10 years in prison. However, Christopher said Eschenbacher could charge him with being a persistent felony offender, which carries a minimum of 10 years and a maximum of 100 years in prison, should he fail boot camp and other DOC measures.