Sentence revoked for man convicted in drive-by shooting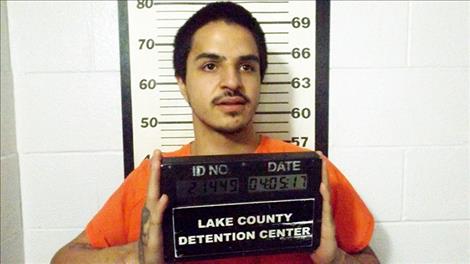 POLSON – A man involved in a drive-by shooting in December 2013 had his probation revoked last week.
Victor Pierre Barnaby was sentenced to three years in the Department of Corrections with no time suspended although he was given credit for 26 days served in jail. Judge James A. Manley recommended that Barnaby be enrolled in "boot camp," otherwise known as the Treasure State Correction Center.
Barnaby, 22, of St. Ignatius, received the sentence as part of a plea agreement in which he admitted to violating his probation. Two assault with a weapon charges were dismissed. According to a court document, those charges stemmed from a fight that Barnaby had on Jan. 28 where he attempted to tackle a man and swung a knife at him several times before the man and a woman disarmed him.
Barnaby said he was under the influence of alcohol at the time, court records state.
In his underlying case, Barnaby and two accomplices, Jonathan Drennan- Beck and Francis Burke Jr., pleaded guilty and were sentenced for their parts in the driveby shooting in the 41700 block of Joe Dog Drive in Pablo in 2013.
According to court records, Barnaby was the driver of a white van that was used in the crime in which no one was injured, although numerous casings from a .45-caliber firearm were later found in the van. A woman and a girl were home at the time of the Dec. 8, 2013 shooting, and they hit the floor to avoid the bullets, according to a court document.
The shooting was in retaliation for the part the homeowner's son played in a drive-by shooting the previous night at Burke's residence, a court document states.
Barnaby received a sixyear deferred sentence for two counts of assault with a weapon by accountability and one count each of criminal endangerment and criminal possession of dangerous drugs.
Drennan-Beck, who court records identified as the shooter, received a 20-year sentence with 15 suspended, while Burke got a 10-year sentence with five suspended.
According to court records, Barnaby had obtained a job but missed several appointments with his probation officer beginning in May 2016.
"You were doing so well … and you started to get drunk," Judge James A. Manley said in court on April 5.