Wheat breeder to discuss crop innovation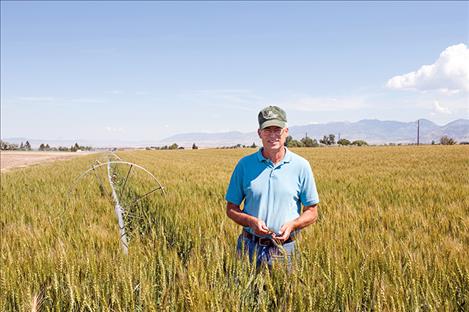 BOZEMAN – The world's population is expected to increase 35 percent to 9.8 billion people by 2050, according to census population experts. In order to feed that many mouths, current crop production will need to dramatically increase, said Luther Talbert, spring wheat breeder and professor at Montana State University.
Talbert will discuss combining agriculture, biology and technology to develop better crops when he delivers the next lecture in the 2018-2019 Provost's Distinguished Lecturer Series, which recognizes highly accomplished MSU faculty. The lecture, "Wheat Varieties for Montana and the World Market," is set for 7 p.m. Thursday, Nov. 29, in the Museum of the Rockies' Hagar Auditorium. It is free and open to the public, and a reception will follow at 8 p.m.
Tracing the early domestication of wild plants more than 10,000 years ago, Talbert will connect the world's major food sources of rice, wheat and corn to current production demands for new and improved food products.
"Our challenge is that the surface of the Earth is not expanding, but our population is growing very rapidly," Talbert said. "We've planted all of the available land to a few crops we rely upon," Talbert said.
Additionally, a warming climate has increased drought, water insecurity and created variable growing seasons and volatile commodity markets, Talbert said — all of which add up to a critical worldwide challenge in food supply.
"Some parts of the world are struggling more than others," Talbert said. "These are places where they can't afford added stresses, because they're already vulnerable."
Talbert said the agricultural community is geared up to handle these challenges. Thanks to recent advancements in technology and science and using age-old techniques in crop breeding, plant breeders around the world are dedicated to addressing global food security.
"Scientific advancements in genetics accelerated plant improvement efforts by the simple idea that plant traits are controlled by genes, and inheritance of genes follows simple and predictable rules," Talbert said. "Starting in the1900s, scientists have been crossing specific plants and selecting among the progeny to combine beneficial traits."
Since 1987, when the 50th Montana Legislature appropriated funds to operate a spring wheat breeding and biotechnology program at MSU, Talbert has been a cornerstone plant breeder for Montana and the Northern Great Plains region.
Working alongside Montana producers, MSU faculty and staff, Talbert has developed a spring wheat program, working to be steps ahead of Montana's next agricultural challenge – whether that's climate pressures, disease, pests or quality demands.
As the second largest spring wheat-producing state in the country, according to the USDA National Agricultural Statistics Service, that means working alongside producers to understand their needs, Talbert said.
During his tenure, Talbert and his research group has developed more than a dozen spring wheat varieties grown on millions of acres across Montana. These MSU-patented varieties have contributed hundreds of millions of dollars to Montana's agricultural economy.
In 2018, Montana producers planted 2.9 million acres of spring wheat, of which about 25 percent was the MSU-developed Vida, a hard red spring wheat that has been the most widely grown spring wheat in Montana since 2010.
The most widely grown winter wheat variety in Montana over that time has been Yellowstone, developed by the MSU winter wheat breeding program. Billions of loaves of bread have been produced throughout the world using flour made from these two varieties.
Last spring, Talbert's breeding program released Lanning, a spring wheat variety with higher protein and stronger gluten than Vida.
"You can have all the markers of a great variety, but if it can't grow and thrive in Montana growing conditions — pests and low moisture and summer heat — it's next to useless," he said.
One of the cornerstone breeding challenges for Talbert has been pests with a particular taste for Montana wheat fields, including the prevalent and damaging wheat stem sawfly. Talbert has focused heavily on breeding lines with genetic markers for pest resistance with faculty and staff collaborators at MSU's agricultural research centers, and MSU entomology faculty, such as David Weaver, professor in the Department of Land Resources and Environmental Sciences.
"My collaborators on campus and peers across the state have all made it possible to develop resistant varieties with the right genes to grow well in Montana," Talbert said.
In 2016, Talbert released Egan, a spring wheat line resistant to the orange blossom wheat midge that was bred and tailored to grow in the Flathead area in northwest Montana, where the midge is widespread.
In addition to pest resistance, Talbert selects the lines that have commercial qualities desired by the international market.
"Wheat exports from Montana have an international market because MSU varieties have the qualities for market and consumer demands; Montana wheat is known for its quality," Talbert said. "Our university Cereal Quality Lab is focused on helping us develop varieties that meet the needs of the market."
Domestic and international customers value qualities attractive for baking and milling, including protein content, strong gluten, high water absorption and other characteristics good for making breads, noodles and a host of other food products, Talbert said.
Developing a wheat variety from the lab to market is a process that can take anywhere from eight to 10 years, Talbert said, adding that the process includes "the work of a lot of dedicated people and builds on decades of collaborative success."
Breeders start by making genetic crosses with an initial evaluation of thousands of lines.
"And from there, it's a lengthy and usually fun process in selecting genes for things like high protein, high yield, and pest resistance," Talbert said.
Genes in wheat are passed through generations just as they are in human families, Talbert said.
"When two human parents have children, each child is unique. The same is true for progeny from a wheat cross. The wheat breeders' job is to identify the progeny with the best traits from each parent."
The best lines are then planted and tested across Montana at seven agricultural research centers, part of the Montana Agricultural Experiment Station. Each center is strategically located in different soil, climatic and elevation environments of the state.
"The goal is to develop a line that thrives in all of Montana's microclimates and growing conditions, and ultimately results in extra income for our farm economy," Talbert said.
After several growing seasons in variety testing at the research centers, the very best line is selected to be a variety. The seed is distributed through the Montana Foundation Seed Program, housed in the Department of Plant Pathology and Plant Sciences in MSU's College of Agriculture. In order to increase the amount of available seed, a group of Montana farmers with the Montana Seed Growers Association, who are certified seed producers with strict field requirements, grow the seed across Montana.
"The success stories in breeding are always fun because you get to see the product of the research in the real world, which in our case is a wheat field in Montana," Talbert said. "Sometimes we do OK and a variety becomes very popular, and other times a new variety we like never really catches on," he said. "But there is always the next cross and the next field season to look forward to. The next one is always going to be the greatest variety ever."
Another highlight of the job, Talbert said, is seeing an increased interest from MSU undergraduate and graduate students in food systems.
"It's gratifying to see our former students thriving in plant breeding jobs in the U.S. and across the world," Talbert said.
The Montana Agricultural Experiment Station and the MSU College of Agriculture Department of Plant Sciences and Plant Pathology host world-renowned plant breeding programs that utilize both traditional and molecular approaches in plant breeding and genetics to emphasize high yields, pest resistance and high quality. More information about MSU's crop breeding programs is available at http://plantsciences.montana.edu/.
The Provost's Distinguished Lecturer Series recognizes faculty distinguished at MSU for their scholarship and creativity. Faculty members presenting during the series will reflect on the inspirations for their work in lectures suited for professionals and laypeople alike. A full schedule of lectures for the 2018-2019 academic year is available at montana.edu/news/17916. For more information, contact the MSU Office of the Provost at 406-994-4371 or provost@montana.edu.