Man charged with selling diamond watch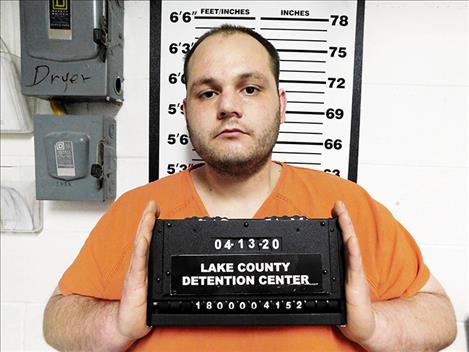 A Lake County man is facing three separate criminal cases involving a break-in at a warehouse in Pablo and two more incidents involving theft.
Eric Templeton, 33, entered a plea of not guilty to felony theft and one count of felony burglary at District Court in Polson on April 16.
In the theft case, a Charlo couple reported to Lake County authorities, in November of 2018, that multiple items of a rare nature were missing, according to court documents. They also reported that a former girlfriend of Templeton's had given them information that Templeton had stolen the rare items and pawned some of them. The Charlo couple had indicated to investigators that the items were taken sometime between 2015 and 2016 when Templeton was helping them build their home.
Among the items taken was a limited-edition cosmonaut watch that was sold to WP Diamonds of New York for $1,600. Other items included an ivory cribbage board that was sold online to someone in Alaska for $450, a walrus tusk scrimshaw and a bronze statue.
In the burglary case, on December 23, 2019, a Lake County Sheriff's Deputy responded to a report of a burglary at a warehouse on Light Road. The owner of the warehouse said someone had gained access to the warehouse by cutting a hole in the backside of the building and removed copper tubing. Surveillance cameras were set up and caught images of a burglary involving a white male wearing a light-colored hooded sweatshirt with a stain on the front.
Another Lake County Sheriff's Deputy was investigating the theft of a chop saw that had been pawned at an area pawnshop. A receipt for the chop saw led the investigation to the residence of a possible accomplice, and Templeton was located at this residence and was cutting up copper tubing with the person who had pawned the chop saw.
Comparing notes from their investigations, the deputies were able to establish Templeton as the burglary suspect in the warehouse break-in, and they were able to connect Templeton to the theft of copper tubing from Schultz Refrigeration in Polson. The tubing, taken from Schultz, was similar to what Templeton was cutting up with the chop saw.
Templeton has not yet been arraigned on the third case against him, which involves the theft of a Kubota tractor from the St. Ignatius area. Templeton was allegedly caught driving the truck that was towing a trailer hauling the stolen tractor on Eagle Pass Trail on April 12. That case was filed on April 17, which was one day after Templeton was arraigned on the other two cases.
District Judge Deborah "Kim" Christopher set the first two cases for trial on Sept. 28. Templeton's bail totals $125,000 when combining all three matters. Templeton has a 2012 conviction for felony criminal endangerment stemming from a high-speed chase with the Montana Highway Patrol in October of 2011.