Uhrich faces deliberate homicide charges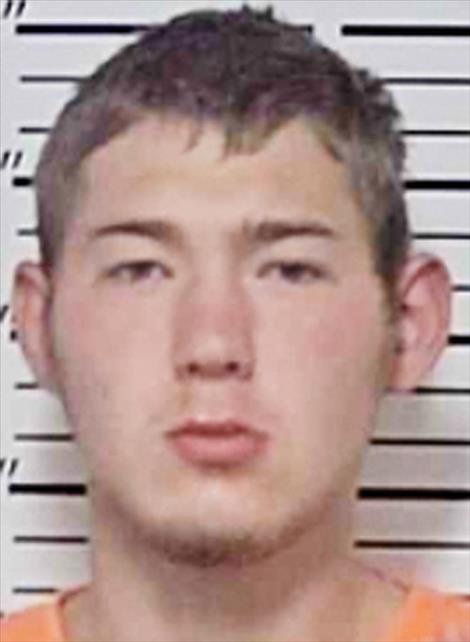 POLSON — A Polson man is accused of shooting and killing the mother of his child on the evening of May 10 in the Hell Roaring Canyon area of the Mission Mountains above State Highway 35, east of Polson.
Tyler Uhrich, 20, was formally charged with deliberate homicide for allegedly shooting Rozlyn Bluemel, 22, in the head, causing her death. He is also charged with felony criminal endangerment for alledgedly leaving the 2-year-old child the couple shared in a vehicle with its windows down the night Bluemel died. A $1,000,000 warrant of arrest had been issued for Uhrich.
According to court records, shortly before 10 p.m. on May 10, Lake County 911 took a report that a person, identified by the initials J.D., had reported being lost in the Hell Roaring Canyon area and that a domestic violence situation was occurring. J.D. said she had followed her friend Bleumel, who was riding in another pick-up with a male identified by the initials A.S., when she saw Uhrich arrive. Uhrich allegedly got out of his vehicle and started banging on the passenger side window of the pick-up occupied by Bluemel, and A.S. and was yelling at Bluemel.
At one point A.S. attempted to drive away, but Uhrich got into the back of the pick-up and began beating on the roof of the pick-up. A. S. then applied the brakes, causing Uhrich to hit the rear of the truck cab. That's when A.S. heard a possible shot. Uhrich then jumped out of the bed of the truck and several more shots were heard. Bluemel then exited the pick-up. Out of fear, A.S. then drove down the road. A.S. indicated that the last thing he saw was Uhrich and Bluemel walking back up the road toward where Uhrich had left his vehicle with the child inside. As A.S. continued driving away, he heard three more shots fired.
Meanwhile, J.D. was still with her vehicle parked near Uhrich's vehicle. She drove toward Uhrich and Bluemel when she heard shots fired. As she proceeded toward where Uhrich and Bluemel were, she could see that A.S. had already left and Uhrich was standing over Bluemel, who was on the ground facing up toward Uhrich. As J.D. approached, Uhrich turned his attention toward her, giving Bluemel the chance to flee into a wooded area. As she fled Uhrich chased after her. J.D. then attempted to call Bluemel. She also attempted to call A.S.'s phone to see if he had come across Bluemel further down the road. A short time later, Uhrich emerged from the woods and banged on J.D.s' window before walking toward the direction of where he had left his vehicle with the 2-year-old child inside. That's when J.D. called 911 to report the disturbance before driving to the main road to wait for responding law enforcement officers.
When law enforcement arrived, neither Bluemel nor Uhrich could be located. Law enforcement did locate Uhrich's vehicle, which was still running with the headlights on and the child inside. The window had been left open and the child appeared to be cold and was crying.
A search for the pair continued overnight and into the next day. It was late afternoon May 11 when law enforcement officers located Bleumel's body. She was lying face down on the ground in a heavily wooded area. She had been shot once in the back of the head with the bullet exiting the front temple area. Bluemel's cellphone was discovered nearby.
The search for Uhrich went on until approximately 6 p.m. on May 13, when Uhrich was arrested by Lake County Sheriff's deputies in the Pablo area.