Articles with the Tag: Polson City Council
Polson Police Department praises community for generosity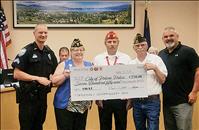 POLSON – The city council meeting was filled with the remarkable generosity of the Polson community. First, Polson Police Chief and Interim City Manager Wade Nash presented two Special Olympic teams with donation money raised from the Polson Police Tip-A-Cop event hosted at Pizza Hut. K...
Poison city council votes on resort tax
POLSON – The Polson City Council meeting was full of people waiting to hear how the council would vote on the resort tax and a proposed mill levy on Monday, Aug. 1. For over a year, the possibility of running a resort tax was debated where local luxury items would be taxed 3 percent for the next 20 ...