Articles with the Tag: Lake County Sheriff Department
Bell shares strategies, concerns as new Lake County Sheriff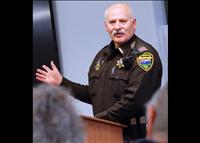 It had been a whirlwind between when Lake County Sheriff Don Bell and Undersheriff Jim Atkins took office at one minute after midnight on Jan. 1 and when they came to speak to the Pachyderm Club on Jan. 9. During the last nine days, Bell and Atkins have put in more than 110 hours each, going to work...
Bell to speak at Pachyderm meeting
POLSON — Newly elected Lake County Sheriff Don Bell will be the featured speaker at the Friday, Jan. 9 meeting of the Lake County Pachyderm Club. Sheriff Bell is expected to discuss what he considers to be the most serious law enforcement problems facing our county and how these issues should be dealt ...