Articles with the Tag: Providence St. Joseph Medical Center
Providence St. Joseph Medical Administrator to speak at Pachyderm Club
News from the Lake County Pachyderm Club POLSON — James Kiser, CEO of Providence St. Joseph Medical Center, will be the featured speaker at the Friday, Jan. 10 meeting of the Lake County Pachyderm Club. He will speak on the state of healthcare and St. Joseph's position in regard to a new clini...
Cancer treatment center delivers smiles with care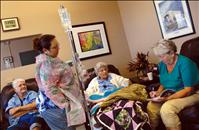 POLSON — It's "chemical warfare," and they distribute "the agents." While this sounds like a covert operation, "they" are really registered nurses Lisa Bertoglio and Kathie Folts. They work at the Otto Klein Cancer Center Oncology Clinic at Providence ...